Activation String :How to do when UFSXsupport will not support you for free anylonger
First of all, we need to say this issue might be more useful for the mobile-service technicians than others.Today issue we 'd like to tell you guys that UFSXsupport will not support you for free after your account is invalid.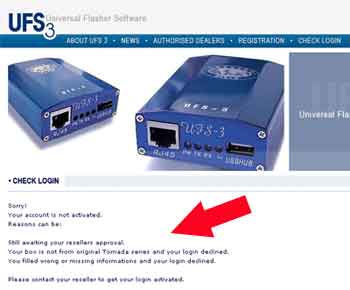 Sorry!
Your account is not activated.
Reasons can be:
Still awaiting your resellers approval.
Your box is not from original Tornada series and your login declined.
You filled wrong or missing informations and your login declined.
Please contact your reseller to get your login activated.

Around the mid of October,2006 ,the tornado box users all around the world were unable to login to UFSXsupport website with their accounts. To result as you are unable to download flash files and other services.This is because the tornado supporter no longer supports you for free, so all member will have to pay about 30 $US a year.
Downloading flash files is not a big problem, but the real problem is we need " Activation String". In case, there is an emergency; such as the computer needs to be formated or even the hardisk gets changed, the activation string needs to be filled again. Unlucky, some users might lost the code and the picture below displays...how to get your code back.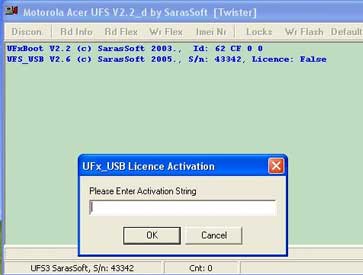 To be aware, you have to saftly keep your activation string now and dont forget where it is. For unlucky users who have lost their codes, we are able to help you by sending us your serial number (S/N) of the box. It will not cost you anything, It is just for free...

E-mail: doctormobile@hotmail.com